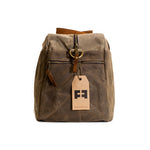 Know a Graduate Who's Going Places?
"Whatever you do, do it well."
~ Walt Disney
We at FAT FELT love Graduation Season (hope springs eternal), we love Walt Disney (we have worked with Walt Disney Imagineering at our real jobs, as architects), and we love doing things well. Really well.
On the topics of graduates on the move, the man Walt Disney, and Perfectionism, see our recent favorites on these below:
We are captivated by this biography which captures both the brilliance and darkness of one of America's most famous visionaries and perfectionists. Your Graduate might be, too.
We at FAT FELT are perfectionists. We are constantly on the lookout for thoughts and processes to help us do what we do better. We found this book to be both inspiring and useful. Your Graduate might turn up her nose at a book about the power of checklists, but it could be one key to her success.

Read More